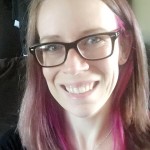 Bonita Bradway has served as a guest #mdeschat moderator in the past and joins our team this year on a regular basis.  Her blog, Learning Wholeheartedly, is a great resource for elementary teachers.
Bonita is a fourth year teacher at Tyler Heights Elementary in Annapolis, Maryland.  She grew up in South Africa and after studying computer programming for a year, took some time off and moved to the USA in 2006 to become a nanny. During the last 4 years of nannying, she earned her Bachelor's in Education from the University of Phoenix.
Bonita is a passionate teacher who enjoys being in the classroom and learning with her students every day. Last year, she became the PBIS (Positive Behavioral Interventions & Supports) coach, and also accepted the opportunity to become the chairperson of the Professional Learning Committee at her school.  The committee allows her to learn with and inspire other teachers who are passionate about growing professionally.  She also spends time connecting with teachers from around the world on Periscope and other social media platforms.
Bonita is inspired by innovative teachers across the country – such as Ron Clark and Kim Bearden. She is always searching for new and exciting ways to make learning fun for her students, and to share positivity and professional learning with other teachers. She is looking forward to her third year as a fourth grade teacher and is very excited to connect and learn with teachers through the #mdeschat forum.
Join Bonita and our other #mdeschat moderators every Thursday at 8PM EST!